Ostfriesland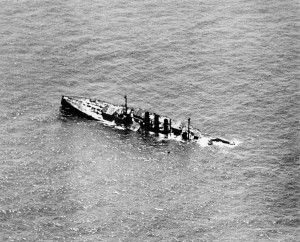 Ostfriesland was a 546′ German battleship built at Wilhelmshaven, Germany in 1908. She was launched in September 1909 and commissioned into the Imperial German Navy in May 1911. Following World War I Ostfriesland surrendered to the Allies and was taken over by the U. S. Navy and commissioned 7 April 1920 at Rosyth, Scotland.
The ship sailed to New York where she was decommissioned 20 September 1920. Ostfriesland, along with several other ex-German warships, became targets for a demonstration of air power. Bombed by Marine, Navy and Army aircraft, Ostfriesland rolled over and sank in 380 feet of water on 21 July 1921, 67 nautical miles off the Viriginia Capes.
NOAA Ship Nancy Foster covered the wreck of Ostfriesland during her multibeam survey cruise of the Atlantic Deep-Water Canyons (NF-11-04) in June 2011.