Frankfurt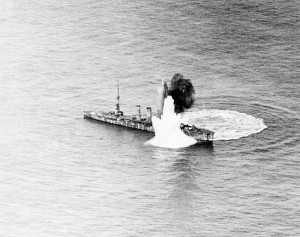 SMS Frankfurt was a light cruiser of the Wiesbaden class built by the German Kaiserliche Marine (Imperial Navy). The ship was laid down in 1913, launched in March 1915, and completed by August 1915.
Frankfurt saw extensive action with the High Seas Fleet during World War I. She served primarily in the North Sea, and participated in the Bombardment of Yarmouth and Lowestoft and the battles of Jutland and Second Heligoland. At the end of the war, she was interned with the bulk of the German fleet in Scapa Flow. When the fleet was scuttled in June 1919, Frankfurt was one of the few ships that were not successfully sunk. She was ceded to the US Navy as a war prize and ultimately expended as a bomb target in tests conducted by the US Navy and Army Air Force in July 1921.
Frankfurt now rest in about 400 feet of water in the Southern Drill Grounds 70 miles off the Virgina Capes.
Citaion: https://en.wikipedia.org/wiki/SMS_Frankfurt
NOAA Ship Nancy Foster covered the wreck of Frankfurt during her multibeam survey cruise of the Atlantic Deep-Water Canyons (NF-11-04) in June 2011.