Coimbra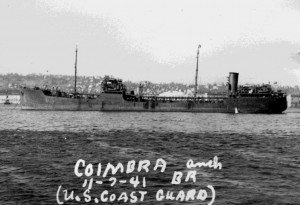 On 15 January 1942 the British steam tanker Coimbra (422 ft x 60 ft) was struck and sunk by two torpedoes fired by German submarine U-123 off the coast of Long Island, New York.
The first torpedo struck on the starboard side just aft of the superstructure. A huge explosion lit up the night sky and the cargo of oil quickly caught fire and spread across the water. Residents from the Hamptons on Long Island could see the fire at sea 27 miles away and alerted the authorities. At 09.59 hours, the second torpedo hit the tanker underneath the funnel and her stern settled fast, striking the sea floor after five minutes. The ship's master, 29 crew members and six gunners were lost. Today the wreck of the Coimbra lies on her starboard side in 175 ft of water. Her hull is broken at each of the torpedo impact points. The Coimbra's tanks hold an unknown quantity of oil and still poses a significant environmental hazard.
At the request of the US Coast Guard, NOAA Ship Thomas Jefferson obtained high resolution multibeam data of the wreck site in November 2009. Survey ID F00584.