Andrea Doria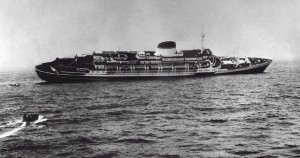 The Andrea Doria was an ocean liner for the Italian Line home ported in Genoa, Italy, most famous for her sinking in 1956.
Named after the 16th-century Genoese admiral Andrea Doria, the ship had a gross register tonnage of 29,100 and a capacity of about 1,200 passengers and 500 crew. For a country attempting to rebuild its economy and reputation after World War II, Andrea Doria was an icon of Italian national pride. Of all Italy's ships at the time, Andrea Doria was the largest, fastest, and supposedly safest. Launched on June 16, 1951, the ship undertook its maiden voyage on January 14, 1953.
On July 25, 1956, while Andrea Doria was approaching the coast of Nantucket, Massachusetts, bound for New York City, the eastbound MS Stockholm of the Swedish American Line collided with it in what became one of history's most infamous maritime disasters. Struck in the side, the top-heavy Andrea Doria immediately started to list severely to starboard, which left half of its lifeboats unusable. The consequent shortage of lifeboats might have resulted in significant loss of life, but the efficiency of the ship's technical design allowed it to stay afloat for over 11 hours after the ramming. The good behavior of the crew, improvements in communications, and the rapid response of other ships averted a disaster similar in scale to that of Titanic in 1912. While 1,660 passengers and crew were rescued and survived, 46 people died with the ship as a consequence of the collision. The evacuated luxury liner capsized and sank the following morning. This accident remains the worst maritime disaster to occur in United States waters since the sinking of the SS Eastland in 1915.
The incident and its aftermath were heavily covered by the news media. While the rescue efforts were both successful and commendable, the cause of the collision with Stockholm and the loss of Andrea Doria generated much interest in the media and many lawsuits. Largely because of an out-of-court settlement agreement between the two shipping companies during hearings immediately after the disaster, no determination of the cause(s) was ever formally published. Although greater blame appeared initially to fall on the Italian liner, more recent discoveries have indicated that a misreading of radar on the Swedish ship initiated the collision course, leading to errors on both ships.
Citation: https://en.wikipedia.org/wiki/SS_Andrea_Doria
The Andrea Doria was surveyed in 2014 by R/V Sikuliaq during assessment tests of her newly installed multibeam echosounders. R/V Sikuliaq is owned by the National Science Foundation and operated by the School of Fisheries and Ocean Sciences at the University of Alaska Fairbanks, as part of the U.S. academic research fleet.
Multibeam sonar data was graciously provided by Larry Mayer and Paul Johnson of the Center for Coastal and Ocean Mapping/Joint Hydrographic Center (CCOM/JHC), University of New Hampshire.