USS Sturtevant (DD-240)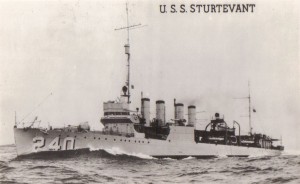 USS Sturtevant (DD-240) was a Clemson-class destroyer (a flush-decker) built for the U.S. Navy by the New York Shipbuilding Corporation. Sturtevant was laid down 23 November 1918 and launched on 29 July 1920. Sturtevant carried out various missions during the interwar period and served as a convoy escort ship during WWII.
On 26 April 1942, she departed Key West in company with a convoy. Just over two hours out of port, a violent explosion lifted Sturtevant‍'​s stern from the water, but caused no apparent damage. Thinking herself under submarine attack, the destroyer dropped two depth charge barrages. About a minute after she dropped the second barrage of charges, a second detonation rocked the ship. She began to settle rapidly, but on an even keel. Minutes later, a third explosion ripped her keel apart beneath the after deckhouse. The midships section sank immediately, and the stern settled soon thereafter. The bow, curiously, remained above water for several hours. Finally, however, all but the crow's nest disappeared beneath the waves. Sturtevant went down off Key West about 8 mi (13 km) north of the Marquesas Keys. Fifteen of her crew were lost with the ship.
It was later determined that Sturtevant passed through an American-laid minefield whose existence the crew had not been notified of. Her name was struck from the Naval Vessel Register on 8 May 1942.
References: http://en.wikipedia.org/wiki/USS_Sturtevant_(DD-240)
USS Sturtevant was surveyed with multibeam sonar by NOAA Ship Thomas Jefferson in 2010. Survey ID H12196.