Olympic II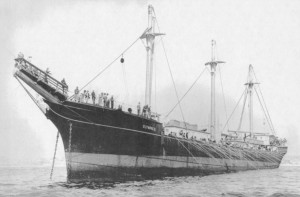 The Olympic II was an iron hulled sailing ship built in Belfast, Ireland in 1877. Originally named the Star of France, she sailed in the Australian wool trade for many years before eventually being purchased by the Alaska Packers Association in 1905. After major modifications, the Star of France was used to transport up to 150 fishermen between San Francisco and Bristol Bay, Alaska. After her sailing career ended in 1925, the Star of France was laid up in San Francisco Bay until 1933 when she was purchased by Captain J. M. Anderson of the Hermosa Amusement Corporation for use as a fishing barge. Anderson renamed her the Olympic II.
The Olympic II began her new fishing career off Hermosa Beach, CA in 1934. After six years off Hermosa, Captain Anderson towed the barge south to the popular fishing grounds known as the Horseshoe Kelp located several miles off Los Angeles Harbor. On 4 September 1940, the Japanese freighter Sakito Maru emerged from a dense fog and rammed the anchored Olympic II amidships. Immediately after the collision the freighter threw her engines in reverse and backed away. The gaping hole left by the impact allowed the sea to rush in and lacking any interior compartments, the Olympic II quickly filled with water and sank in three minutes taking with her 8 lives.
Today the 300 ft wreck of the Olympic II rests in 95 ft of water in very close proximity to the Los Angeles Deep Water Traffic Lane.
The Olympic II was surveyed with multibeam sonar by the research vessel Zephyr in 2000. Survey ID H10998.