U-352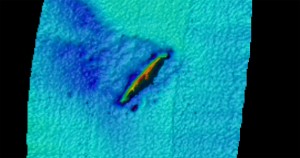 German U-boat U-352 was sunk in Onslow Bay, North Carolina by USCGC Icarus on May 9, 1942. She rests at a depth of 112 ft.
NOAA Ship Nancy Foster surveyed the wreck site of U-352 in September 2010. Survey NF-10-11-LF was conducted for the Assessment of Lionfish Ecosystem Impacts cruise.
Multibeam survey data is available from the National Geophysical Data Center.